So everyone is talking about Google's recent algorithm changes but how have they changed? Before reading any further go straight​ t​o​ ​the Google Mobile-Friendly​ ​Test to check if your site is optimised for mobile.
If you got a message like this then you need to make some changes to keep your precious search engine results.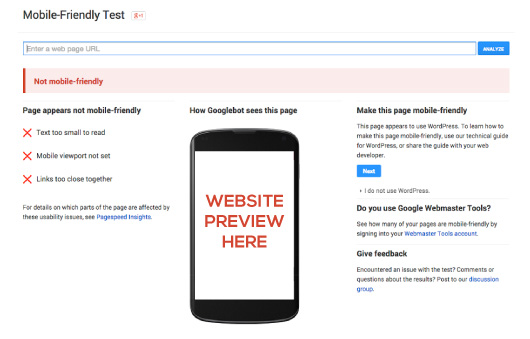 Up until April 21st it has been possible for websites to perform well without having a mobile optimised site,​ ​but now that has all changed. Google ​is on the prowl for mobile-friendly websites and if you don't have one you can expect to see a significant drop in your search results.
Not familiar with what makes a website​ ​mobile-friendly. In a nutshell a​ ​mobile-friendly site is a website that automatically changes it's layout based on the device being used. To avoid being penalised, Google recommends a beautiful new responsive site. Therefore you will have a single website that will look AMAZING on your phone, tablet​ ​and​ ​desktop.
In return Google will reward your new mobile​ ​site with improved SEO. By investing in a responsive site you will also create a good user experience which in return leads to​ ​increased conversion rates and keeps your brand competitive.
Talk to us about beautiful, conversion friendly websites that generate qualified leads for your business. We would love to help you! Call us on 02 8399 2223.